Aspire's elegant sophisticated design delivers
 productivity and versatility to your work
 environment.
---
Aspire's Voice over IP (VoIP) capability allows you to place voice calls over the data network. VoIP reduces long distance charges by using IP to connect multiple office locations and telecommuters. Remote workers also have access to main office features, such as voice mail, allowing offices to operate as a single unit.
AspireMail, an optional digitally linked in-switch voice mail, provides sophisticated features that save time and money. Return call with Caller ID saves caller ID information for inside-and outside-originated calls. Answering Machine Emulation is helpful when you are waiting for an important call.It lets you listen while a caller is leaving a message for you. Message Center Keys allow two people sharing the same phone to have their own message waiting key. Each person can see if he/she has new messages. Conversation Record saves and records your conversation into your mailbox with the touch of a button. Park and Page allows a caller to page you before leaving a message. You can pick up the call from any station.
Automatic Call Distribution (ACD) distributes calls evenly among member agents and provides initial and repetitive announcements that encourage callers to remain online. Callers can leave a message if they choose to receive a callback from an agent. Optional PC-based Supervisor with Reports can be used for agent scheduling.
Wireless/Cordless phones keep employees connected while away from their desk. Aspire provides a variety of mobility solutions to connect your whole campus or just your office.
System maintenance allows for online HTML-based programming access either onsite or over the Internet. Using browser software simplifies the process for changing names or speed dial settings. Special PC software is available for off-line programming and remote access by modem.
Call Logging saves information about incoming and outgoing calls. Logged calls can be redialed or saved to speed dial.
Aspire's Automatic Route Selection (ARS) system decides whether to place a call with a long distance carrier, over IP or, if allowed, a local trunk. You specify how you want your calls to be routed.

E911 Compatibility identifies the origination of an E911 call so emergency services can reach the specific extension location quickly.
<![if !vml]>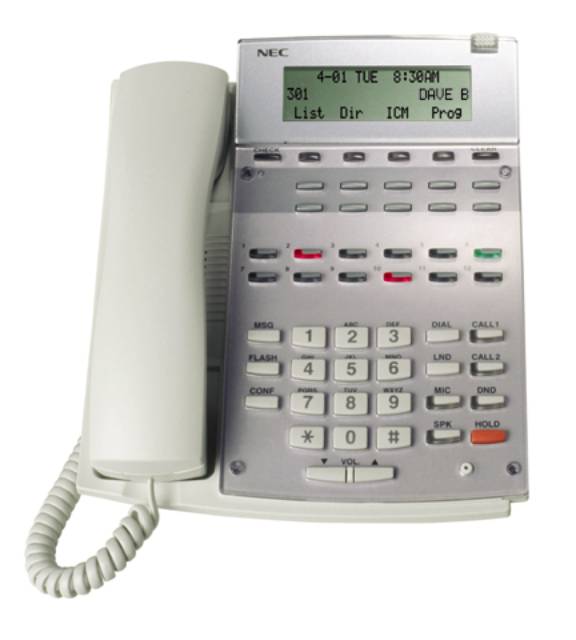 <![endif]>
Separate Headset Jack –
Using a headset is convenient and easy.

Interactive Display –
Three-line, 24 character tilt display with associated soft keys. Contrast Control adjusts the display characters for easy viewing.

High Visibility Message Waiting Indicator –
Message indicator can easily be seen.

Interactive Soft Keys –
Change to provide intuitive feature access.

24 Programmable Function Keys –
User programmable for one-button access to co-workers, features and outside lines.

15 Fixed Feature Keys –
Quick access to commonly used features.

Adjustable Legs –
Elevates the telephone for two additional angles.

Wall Mount –
Each telephone has a built-in wall mount bracket.

Volume Control –
Adjust volume levels for the speaker, ringer and handset individually.

Multi-colored Faceplate Inserts –
Changes the look of the telephone to fit in with the office décor.

Speakerphone –
Built-in for hands-free operation.

Optional Snap-on Module – Connect full duplex
speakerphones, cordless telephones, modems, TAPI, IP networks and recording jacks.
<![if !supportEmptyParas]> <![endif]>
<![if !supportEmptyParas]> <![endif]>